The World Languages courses offer multiple opportunities for students to demonstrate continued growth as life-long language learners at novice, intermediate or advanced level proficiency in interpersonal, interpretive, and presentational communication.
Graduation Requirements: 2 Years/Credits in one language (Arabic, French, Spanish)
The American School of Dubai's World Languages Program is a performance and proficiency model based on the American Council on the Teaching of Foreign Languages (ACTFL) Guidelines and the World-Readiness Standards for Learning Languages. The World Languages Department believes language lies at the heart of the human experience; it is essential to the education of global citizens for each student to develop a sensitivity and understanding of the similarities and differences across and between languages and cultures.
Making connections and comparisons to other languages and cultures also helps students better understand their own language and culture. Students build higher-level thinking skills through language learning; through rich communicative, cultural, and cross-curricular experiences balanced with a study of formal aspects of language, students come to express themselves and interact appropriately in authentic cross-cultural contexts. 
Image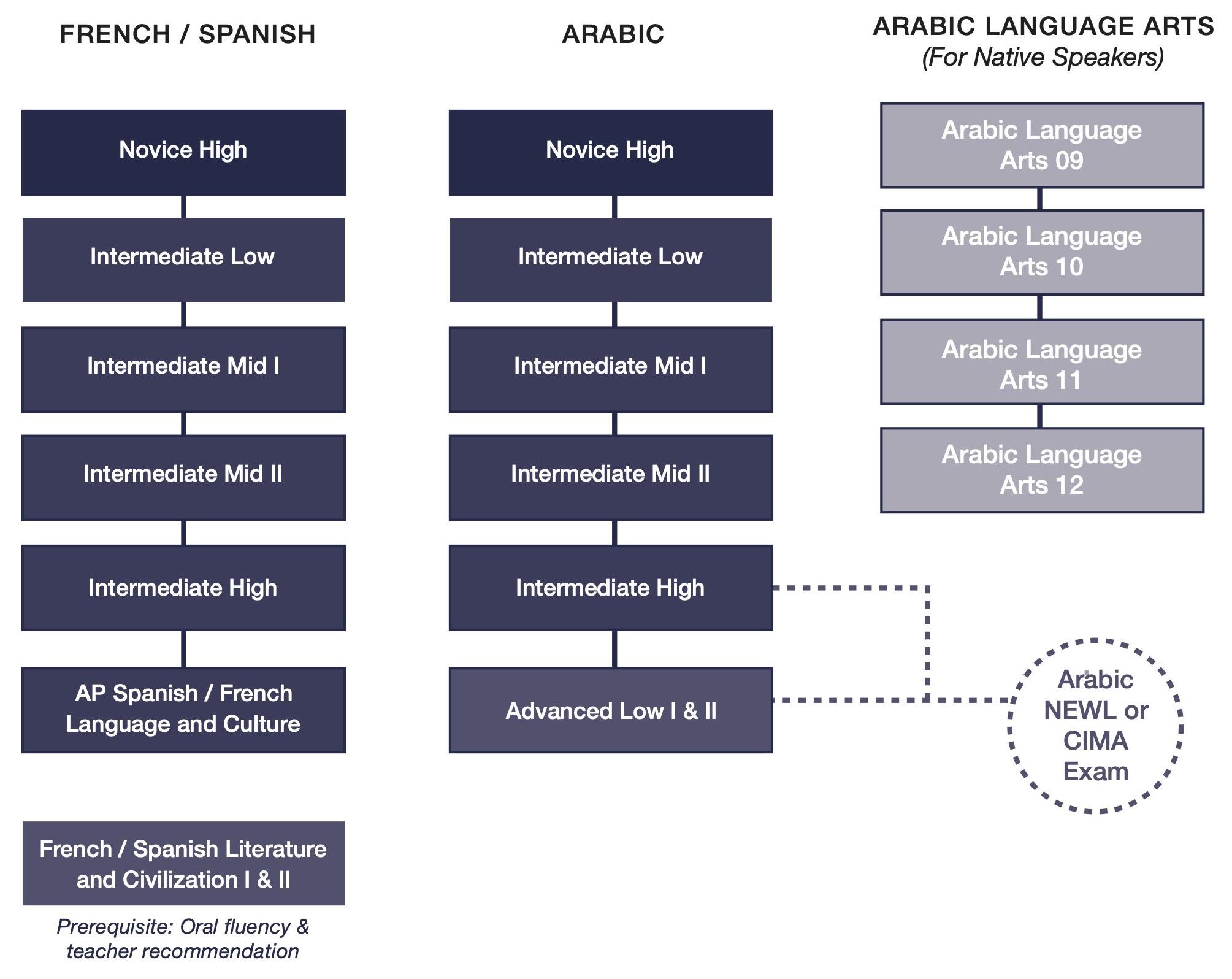 The Arabic Language Arts courses are literacy-based and include reading comprehension, writing processes, and listening and speaking skills comparable to grade-level English Language Arts classes. These classes are intended for students who are Arab passport holders or who have Arabic as one of the languages used regularly at home.
Through our wide range of course level offerings students have the opportunity to continue language learning throughout their 4 years of high school. When selecting the AP French/Spanish Language and Culture course, please note that ACTFL and the College Board's anecdotal evidence shows that students who are showing evidence of Intermediate mid proficiency are likely to score a 3 (passing score) on the AP Language and Culture Exam; students showing evidence of Intermediate High proficiency are likely to score a 4 or 5; students showing evidence of Advanced level of proficiency are the most likely to score a 5 on the AP exam. Intermediate High language users are able to function at the Advanced level, but are not able to sustain that performance across the tasks and contexts of the Advanced level.
As there is no AP Arabic Language and Culture course, students who are seeking AP®-style score reports that can be used to apply for college credit and/or placement are encouraged to explore the Arabic NEWL (National Exam in World Languages) or CIMA (Certificat International de Maîtrise en Arabe). These international, external exams are recommended for students with minimum Arabic World Language Intermediate High or Native Arabic Grade 10. Upon successful completion of this exam, an official letter from the school will be submitted to the College Board so it can be included with the student's AP records.
Students can also make an Independent Exam Request to order and write AP exams in language classes that are not offered at ASD. These requests are reviewed by the AP Coordinator and the Counseling and Director of Language for approval.
The term "heritage learner" is used to describe students who speak the target language at home. There are many levels within this term.  As part of the transition to High School, 8th graders who are heritage French and Spanish speakers are placed based on their assessed proficiency in the language whether or not they had been enrolled in that language in Middle School. The objective of this placement is to appropriately place students in the course that would best suit their needs as learners. In some cases, this can mean that students are placed in Spanish/French Literature and Civilization, a course designed to meet the needs of students who have exceeded the proficiency level required for success in AP. This may mean that, while students will not be eligible to take the AP course, they will be supported if and when they choose to take the AP exam for that language.