Parents
23 May 2021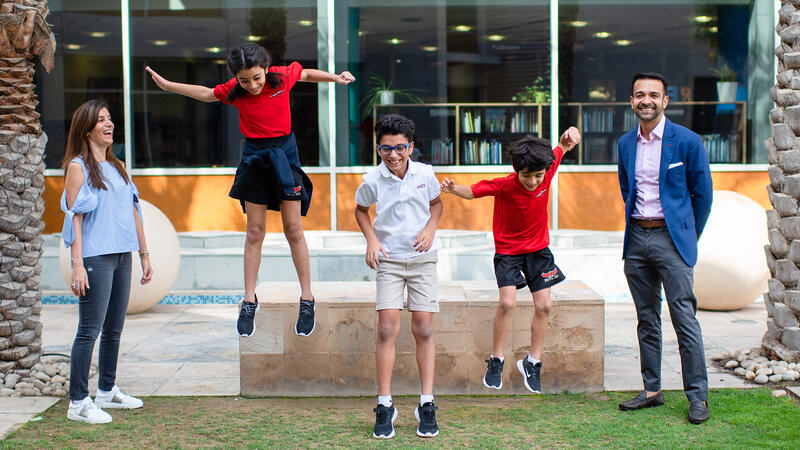 Nicky Daryani has a long history with ASD. He was part of the third graduating class of the school in 1996, is a current ASD parent, and has recently been appointed the Vice-Chair of the Board of Trustees. We asked him a few questions about his favorite memories and his advice for the upcoming graduates.
How long has your family been with ASD?
31 years!
How long have you been a Board Member?
Four years.
Why do you choose to serve on ASD's Board of Trustees?
Having been a student at ASD and now a parent, I wanted to give back to my school. ASD has been a part of my life ever since I was 11, moved to Dubai, and began 6th grade (ASD was JAS at that time). ASD soon became my second home as I spent the next 7 years of my life more on campus than anywhere else. The friends I made at ASD are still my closest friends to this day. Over the past 7 years, I have been an ASD parent and enjoyed seeing my children become ASD Falcons. ASD has given so much to me over the years and I wanted to play a role in its future.
What does it mean to serve on the Board of Trustees?
The Board Of Trustees makes decisions with one question in mind … "What's best for our students?"
ASD has been part of my DNA for the past 3 decades and it is very close to my heart—so being a part of the Board means a great deal to me. It is an honor and I am grateful that I have been given this opportunity. I never take it for granted and always keep in mind what's best for our students and community.
What sets ASD apart as a school?
The ASD community. ASD has a great community that brings students, teachers, faculty, and parents together. We have had a challenging past year with COVID and it has been difficult not being able to do community events and getting to see each other. However, our community has shown resilience during these tough times and been there for each other.
How does ASD's model best prepare learners for the future?
ASD's emphasis on social skills helps students prepare for life. Some of the most important social and presentation skills that I have learned were at ASD—which helped me through college and in my career. I came to ASD as a shy, introverted 6th grader. Over the next seven years, I became more social as I made friends and participated in activities such as speech & debate, school plays, and sports. By the time I graduated ASD in 1996, I was a changed person and ready to take on the next challenge. And recently, I see similar developments in my three kids as they experience ASD and their social skills flourish.
What are your favorite memories of ASD?
Wow, I have so many memories during my years as a student and recently as an alum and parent. I'll give you two: 1. All the EMAC school trips for activities and sports were awesome. Two of my most memorable ones were my senior year EMAC Debate & Forensics tournament in Kuwait and the MUN high school conference in The Hague, Netherlands. 2. During the ASD 50th year anniversary celebration, I had the incredible opportunity to open up the time capsule. The same time capsule that I had buried with my 8th-grade classmates 25 years earlier on the old campus.
Can you share a favorite book, movie, or quote?
Winston Churchill said, "Success is stumbling from failure to failure with no loss of enthusiasm." I like this quote because it highlights that part of succeeding is going through difficult times and tough experiences. Failures don't really mean you failed. Instead, they teach you what is not working. They guide you on how to move forward and achieve your goals.
What is the most interesting thing about you that very few people might know?
I will give you a few funny and unusual ones:
I like old-school hip hop music
When I was a kid, I used to collect erasers and garbage pail kids
I support the Tottenham Spurs
What words of advice would you offer the Class of 2021 as a new journey begins for them?
Enjoy your life experiences and make the most of them. Even in every challenge or difficulty, you will learn something that will help you down the line. Life experiences and challenges build character.
The American School of Dubai Board of Trustees is a group of volunteers dedicated to carrying out the mission of ASD and the community it serves.