Press
20 February 2020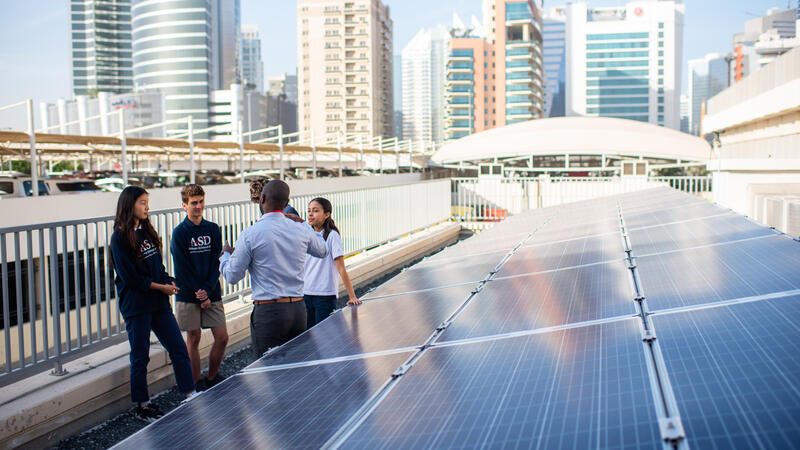 ASD has released new images and findings of its solar panel installation, the prize they won during the first Expo 2020 'Sustainability Champions' Programme.
 
Since the placement of the solar power arrays in August 2019, ASD has generated 51,702 Kwh in total energy, the equivalent of approximately 570 trees, 28.5 tons of CO2 emissions or more than 14,531 litres of fuel saved. The initial installation of the solar panels has reduced the campus' energy consumption from the grid by 4% with plans underway to reduce overall grid-sourced energy by up to 50% by 2027. 
With the aim towards becoming a net-zero energy school, solar power is now an integral part of ASD's science curriculum, with the panels already integrated into high school science, as well as Grade 8 and Grade 5 sustainability units.
Launched in April 2018 in collaboration with the Ministry of Education and the Ministry of Climate Change and Environment, and in support of the UAE founder's vision for a sustainable future, the Expo 2020 'Sustainability Champions' programme saw more than 100 schools participate, two of which were rewarded, following a selection process, for their commitment and contribution to sustainable initiatives.
As part of the programme win, ASD was one of two schools in the UAE to receive photovoltaic panels worth a combined AED 1 million, in addition to support from Expo 2020 for ongoing sustainability initiatives and training.
Commenting on the initiative, Dr. Paul Richards, Superintendent at American School of Dubai, said: "The American School of Dubai encourages sustainable practice and innovative changes to improve the present and future of the community. We are extremely proud and thankful to Expo 2020 for recognizing the school's achievements and since the installation of the solar panels, we have seen a significant increase in efficiency and reduction in costs. Sustainability will remain a continued focus in our curriculum and an integral part of the learning and ethos of our community."
Sustainability remains a continued priority for ASD, with a focus on energy and waste reduction in addition to community awareness and the development of a "sustainable ethos".  The school has introduced a 'sustainability tour' coordinated by the Changemaker Office with the participation of student organizations providing ASD students, educators and, increasingly, visitors from outside the school, with a chance to visit the sustainable facilities and understand their educational connections to curriculum and community engagement. The tour highlights, among other things, an industrial composter (funded by the Zayed Sustainability Prize), a Sustainable Garden, a recycling program, a Bee Garden, a Kitchen Classroom as well as the solar array.
Alya Al-Ali, Vice President, Expo School Programme, Expo 2020 Dubai, said: "Our Sustainability Champions Programme, honouring one of Expo 2020's three key subthemes, recognises the efforts of UAE schools in driving change to save our planet. We heartedly applaud ASD on its green energy triumph – achieved from its Expo 2020-funded solar panel installation – and look forward to further updates on an initiative that is leaving a lasting legacy for sustainability across the education sector."